Editor's note: If you haven't played Gravity Bone you should definitely do that before reading this. It's packaged with Thirty Flights of Loving, but you can also download it free directly from Blendo Games.
Right from the start you know you're in for a treat. Trumpets blare a tune straight from Copacabana Beach while an elevator takes you to a raucous masquerade ball in the sky. Planes create smoke patterns overhead, while a trio of men in dark suits and sunglasses watch from on high, tracking you like the eyes of the Mona Lisa.
Gravity Bone has a lot of tricks, but its best is that it manages to feel lean and focused while still displaying the ambition of a game five times its size. In just 15 minutes it squeezes in an interactive tutorial, platforming, exploding birds, photography, plot twists, light puzzling, and a chase sequence that'll blow your socks off—and it does it all to the accompaniment of upbeat Latin music.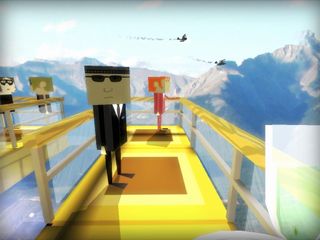 You can tell that it was made on a budget (the party…