Microsoft will begin serving up its Creators update for Windows 10 to the public on Tuesday, April 11. This will be a staggered roll out, so you might not see it right away. If you don't feel like waiting, you can apply the upgrade manually using Microsoft's Windows 10 Update Assistant and be done with it. Whichever upgrade path you choose, before you dive in there are some steps you should take to ensure a smooth transition. Let's go over them.
Clean up the clutter
The first order of business is to make sure you have enough disk space on your C: drive to apply the update, especially if you're using a low capacity SSD as your main drive. This is a bit of a guessing game since Microsoft has not said exactly how much disk space is required for the Creators Update—we've seen 10GB thrown around as a general target.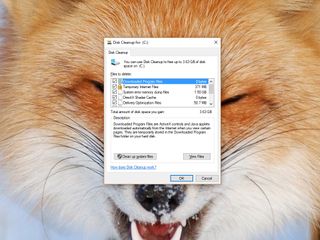 Uninstalling unwanted games and programs is one way to clear up storage space if you're running low. Beyond that, you can free up storage using the Disk Cleanup tool…