Aktuell sucht der japanische Entwickler Grezzo nach Programmierern für ein bisher noch unbekanntes Spiel. Das gibt bereits genügend Anlass für Spekulationen um ein weiteres Zelda-Game für Nintendos Hybrid-Konsole.
"Would you like to make a legend together 2?" – Möchtest du gemeinsam eine Legende entwicklen? Diese Frage stellt das Entwicklerstudio seinen potenziellen Mitarbeitern auf der Webseite.
Fans stellen fest, das Grezzo mit genau der gleichen Frage (deshalb auch die "2" hinter dem Satz) schon im Jahr 2014 nach neuen Mitarbeitern gesucht hat. Noch im selben Jahr wurde dann das Remake zu Majoras's Mask offiziell angekündigt.
Hast du schon all diese Kuriositäten in Breath of the Wild entdeckt?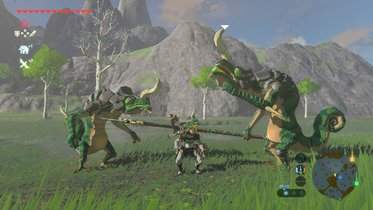 Bilderstrecke starten
(6 Bilder)
…