Food items and keyboards should never mix. But regardless of how careful you are, it's not a matter of if accidents can happen, it's a matter of when. To have your keyboard drenched by a toppled glass of liquid is a nightmare scenario, and can easily happen to the best of us. So I intentionally did it to Corsair's keyboard.
To mitigate unhappy accidents, Corsair designed the K68 "spill resistant" mechanical gaming keyboard. The K68 has an Ingress Protection (IP) marking of IP32, and should therefore be able to ward off particulates larger than 2.5mm and dripping water. This is achieved by surrounding each of its Cherry MX Red switch with a silicone flood wall.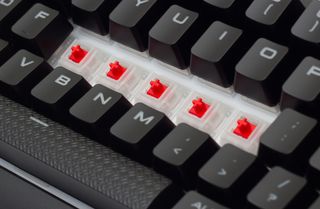 The K68's IP32 rating is impressive, but it's not the highest we've seen. That honor goes to the Razer Blackwidow Ultimate and its IP54 rating. Whereas the Corsair K68 uses rubber floodwalls, the Razer Blackwidow Ultimate's switch casings are inherently water resistant.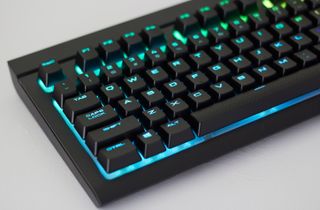 Nonetheless, Corsair's confidence in…